MY NAME IS RACHEL CORRIE
Presented by Chopt Logic Productions and Shane Anthony. Originally presented by Bella Shanley and La Boîte Theatre Indie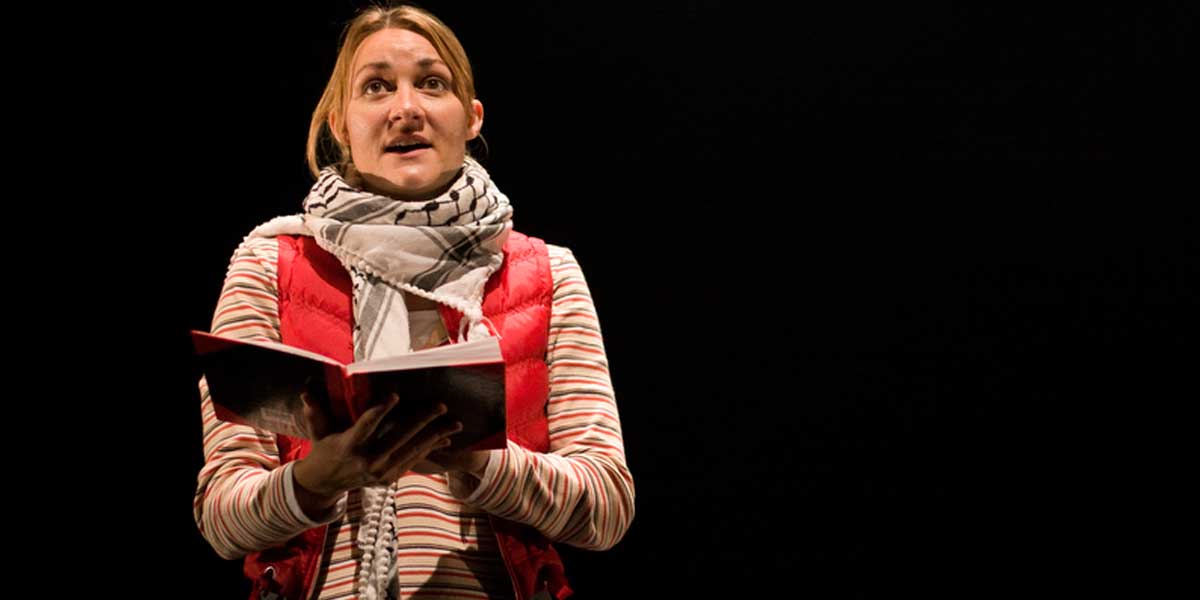 Based on the diaries of Rachel Corrie and edited by Alan Rickman and Katherine Viner
Greenroom Groundling Award Winner – Most Outstanding Contribution by an Actor – Julia Billington
Placing herself between an Israeli Forces bulldozer and a Palestinian home marked for demolition Rachel Corrie had faith that humanity could overcome the conflict in Gaza. She lived… and died for this belief. She was 23 years old.
Capturing the hope, idealism, wit and depth of Rachel's moving journal entries.
Rachel Corrie was an American College student and member of the International Solidarity Movement (ISM) who travelled as an activist to the Gaza Strip during 2003. She was killed while attempting to prevent an Israel Defence Forces (IDF) bulldozer from demolishing a home in a Palestinian residential area near the Egyptian border. The details of the events surrounding Corrie's death are disputed. While an Israeli military investigation ruled the death was an accident, Corries' parents and the ISM maintain that Corrie was run over deliberately.
"Julia seizes these words and simply inhabits Rachel for this 90-min monologue, introducing us to a spirited, intelligent girl with an insatiable curiosity and a social conscience."
"Everything about her performance is open, truth, fearless and completely disarming, to the point where at the end of the play you feel you've lost an adorable friend."
Baz McAlister, The Courier Mail 1st Nov 2010
"Shane Anthony's direction for this production is pretty much seamless, perhaps because the play has been so well cast with Julia Billington as Rachel."
"Her performance is vibrant, intensely likeable and never feels 'acted'."
Katherine Lyall-Watson, Our Brisbane 2nd Nov 2010
Direction
Shane Anthony
Designer
Jonathan Hindmarsh
Lighting Designer
Martin Kinnane
Composer
Chris Perren
Stage Manager
Cheng Tang
Original Producer
Bella Shanley
Cast
Julia Billington
Production History
Revised Season:
9th September, 2017 School of the Arts, Singapore
21st – 23rd September, 2017 Downstairs Belvoir, Sydney
Original Season:
27th October – 14th November, 2010 La Boite Theatre, Brisbane
Website
https://archive.laboite.com.au/2010/my-name-is-rachel-corrie
www.rachcorriefoundation.org
Photography
Ryan Jones
Sign up here for news on upcoming events.