Chopt Logic is a performance ensemble specialising in creating visually stunning physical theatre.
Sign up here for news on upcoming productions.
Past and current project supporters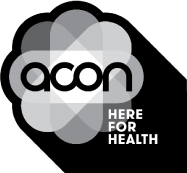 AVAILABLE TO TOUR
OUR BLOOD RUNS IN THE STREET
Produced by Chopt Logic Productions, Co-presented by Metro Arts, Red Line Productions and Sydney Gay and Lesbian Mardi Gras.
In 2019, the NSW Parliament reopened the NSW Parliamentary Inquiry into Gay and Transgender hate crimes between 1970 and 2010 to delve into the state's history of violence and persecution against LGBTQI Australians.
In this landmark production, Shane Anthony and the ensemble have taken as their starting point real interviews with real Australians affected by hate crime. Constructed from first-hand accounts, they take a searing and unapologetic look at how cultural prejudice and bias has contributed to violence against gay and transgender people in Australia. Drawing on the words of the victims' family members, witnesses, historians, police officers, journalists and researchers, Our Blood Runs in the Street blends spoken word and physical theatre in a powerful cry of rage and an ode to human resilience.
Our Blood Runs in the Street was developed with the assistance of Metro Arts and NIDA Open Pilot Program with creative development residencies in 2019. We acknowledge ACON, City of Sydney and Star Casino for their generous support in the development of this production.
Our blood runs in the streets and in the parks and in casualty and in the morgue…
'Our own blood, the blood of our brothers and sisters, has been spilt too often…
'Our blood runs because in this country our political, educational, legal and religious systems actively encourage violence against us…
From the 'One in Seven' Manifesto, Sydney Star Observer, 5 April 1991
Concept and Direction
Shane Anthony
Producer
Alison Bennett
Set and Costume Designer
Veronique Benett
Composer
Damien Lane
Sound Designer
Nate Edmondson
Lighting Designer
Richard Whitehouse
Cast
Andrew Fraser, Cassie Hamilton, David Helman, Eddie Orton, Sam Plummer, Ross Walker and Tim Walker.
Research Assistant
Rachel Aitkens
ACON Community
Liaison Consultant
Michael Atkinson
Production History
2020 The Old Fitz Theatre, Sydney.
Photography
Jasmin Simmons
IN DEVELOPMENT
IS THIS HOW YOU FEEL?
Co-produced by Chopt Logic Productions and Boom Squish Climate Change Theatre, with support by City of Sydney, Australian Theatre for Young People, School Strike 4 Climate, Sydney Fringe, Critical Stages and Legs on the Wall.
A verbatim theatrical exploration of climate change.
In late 2014 Science Communicator, Joe Duggan approached the world's leading climate scientists and asked them to respond to one simple question: How does climate change make you feel?
Their responses were truly moving. The scientists shared handwritten letters filled with fear, anxiety, exasperation and occasionally, a glimmer of hope. These letters were shown in exhibitions around the world and via the project's website isthishowyoufeel.com where they were viewed by hundreds of thousands of people, sparking passionate conversations and leading to a suite of new projects geared towards changing how we talk about feelings around climate change. Now, more than five years since this ground-breaking project, Mr Duggan is reconnecting with the original contributors and asking them the same question once more. This time, the responses indicate a hope for the future: our youngest leaders.
Over the last five years, we've seen public awareness and panic rise dramatically, the signing of the Paris Agreement, the emergence of Greta Thunberg and the first school strike; the growth of that movement into a worldwide phenomenon and children leading older generations; climate anxiety and existential dread; Extinction Rebellion and massive public protests and demonstration; polarisation of politicians and public figures forced to pick a side of history. The world has changed and woken up to the climate crisis over the span of Is This How You Feel?
Chopt Logic and Boom Squish will create a new work inspired by this remarkable project in collaboration with Joe Duggan. We plan to adapt it into a provocative verbatim and physical performance that showcases these powerful letters for audiences and vigorously encourages new, vital conversations about the climate, inspiring hope and action.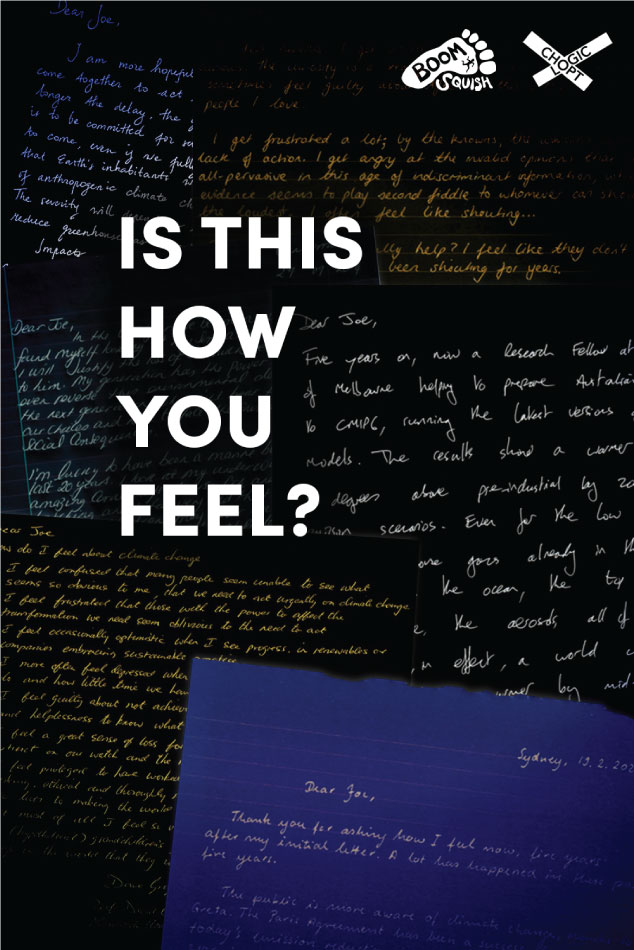 Concept and Direction
Shane Anthony
Concept and Writer
Hayden Rodgers